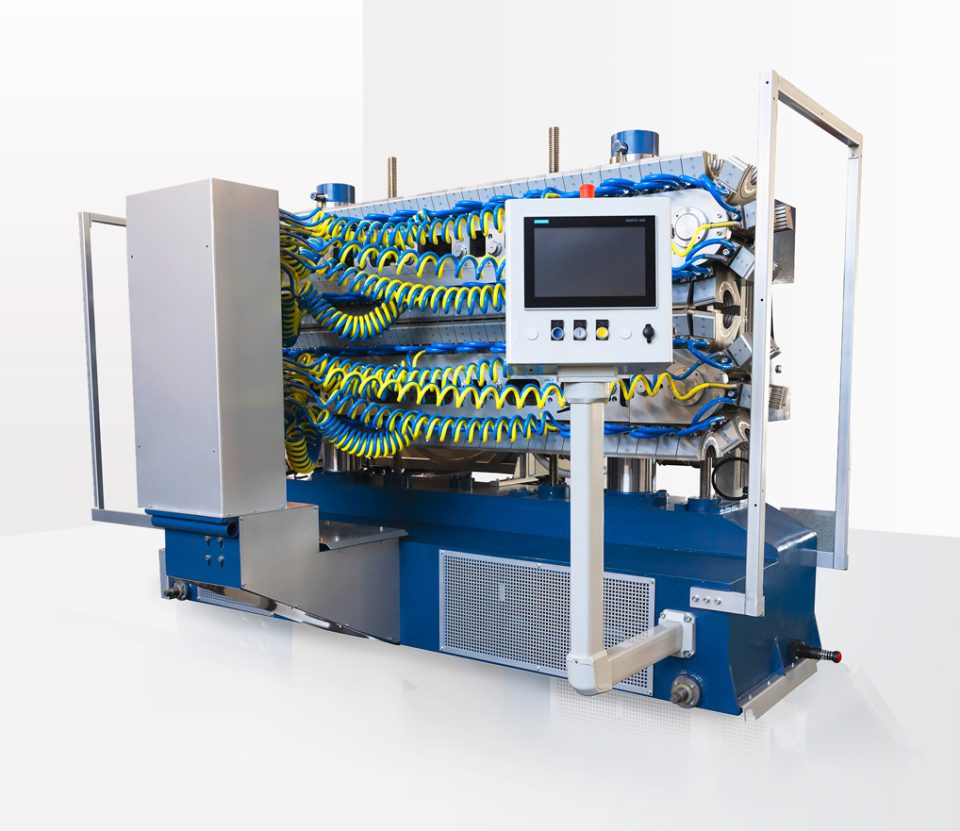 Dynamic, Technological, Multi-functional
The C66AP model is studied for the production of medium and large diameter pipes from Ø50 mm internal to Ø250 mm external for the civil and sanitary industry.
Extremely versatile and it can produce pipes with multiple internal walls and different color stripes thanks to its dedicated extrusion heads. It's equipped with aluminum alloy molds that slide on special trolleys to facilitate and speed up mold change.
The internal cooling system, maintains constant the temperature of the molds and of the slopes in order to maintain uniform production even after many hours of continuous operation. Its ease of use, reduced consumption, and low maintenance costs make the C66AP an ideal choice to produce medium and large-format pipes for exhaust and water drainage. The Siemens PLC and touchscreen panels allow controlling all the functions of the corrugator and other machines in the line.
Thanks to external interfaces, the corrugator can be remotely controlled to synchronize speeds with extruders and other machines in the line. Its high productivity, compact size, robustness, and stability in production make the C66AP corrugator the perfect solution to produce high-quality and durable pipes.
We are available to customize the machine according to customer needs.
Aluminum molds with internal cooling circuit mounted on trolleys.
Liquid cooling with the possibility of connection to an industrial refrigerator or cooling system.
Vertical corrugator group.
Aluminum mold blocks.
Automatic lubrication system.
Siemens PLC unit.
Touchscreen panels.
Forward and backward movement of molds.
Accurate mold adjustment through Brushless motor.
Labirint water cooling system.
Cylinder expulsion through air.
Interface for synchronization with the extruder.
Industry 4.0 enabled.
Contact us for more information