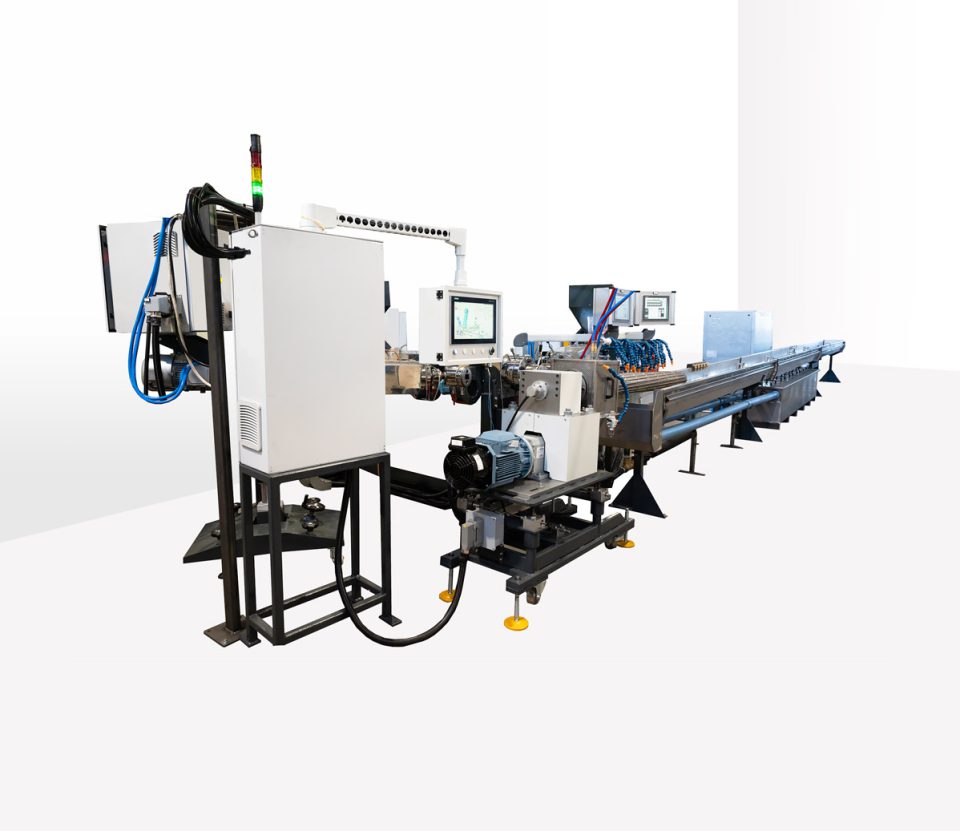 Machine
Tools for Spiral Hoses Reinforced
The Coextrusion Line for PVC Suction Hose is an advanced solution for the production of PVC suction hoses through the coextrusion process.
This innovative extrusion process allows multiple materials to be fused together to create a multilayered product with superior characteristics. With OLMAS technology, co-extruded tubes can be produced using two or three different materials, creating single or double-wall tubes specifically required by the medical sector. The Coextrusion Line for PVC Suction Hose consists of several essential components. Extruders are responsible for the melting and extrusion of materials. The cooling system ensures proper cooling and solidification of the tubes. Finally, the control system monitors and regulates the production process to ensure optimal results.
The PVC suction hoses produced with this machine are extremely durable and resilient, suitable for a wide range of industrial applications. They are commonly used for the transport of solid materials, powders, and liquids. Additionally, thanks to their three-layer design, they offer superior performance in terms of electrical insulation, air ventilation, and can also be used in medical applications such as respiratory tubes.
Furthermore, by using a double-output head, the plant's capacity can be doubled by producing two tubes simultaneously. The reliability of our lines allows for the simple and effective automation of the entire extrusion and forming process: just add a cutter and a winder to automatically cut the tubes to the desired length and wind them into consistently sized coils.
The Coextrusion Line for PVC Suction Hose enables the production of tubes with a wide range of diameters, from 12 mm to 200 mm, and can create tube coils up to 50 meters in length. By choosing this machine, companies can benefit from an efficient and high-quality production solution for their PVC suction hoses.
As a complement to coextruded tube lines, Olmas manufactures and supplies all the necessary auxiliary machines and equipment, including:
Extrusion heads adaptable to any type of extruder
Extrusion dies and forming equipment
Cooling tanks and supports
Flying cutter
Adjustable dual-coil winder
Liquid cooling units